Don't forget… to make sure you've placed your preorder for the Watercolor Christmas Class with me before Monday, Sept. 3.  If you preorder through me, the cost of the stamp set and project kit is only $40!  That means that when you come to my house on Sunday, October 15th, you will leave with 20 handmade Christmas cards ready to go, and a stamp set.  If 20 cards simply isn't enough, you can easily order additional project kits to make more in multiples of 20 cards.  But wait, if you have preordered the class with me, you won't have to order another stamp set because you will already have it!
Images from the *new* Holiday Catalog have been released, so I can finally show you what the kit and stamp set look like together.  If you weren't able to attend my open house and would like a copy of the Holiday Catalog, please let me know!  It goes live tomorrow and I cannot wait for you to see all the new images and bundles.  Your wish list will definitely be growing…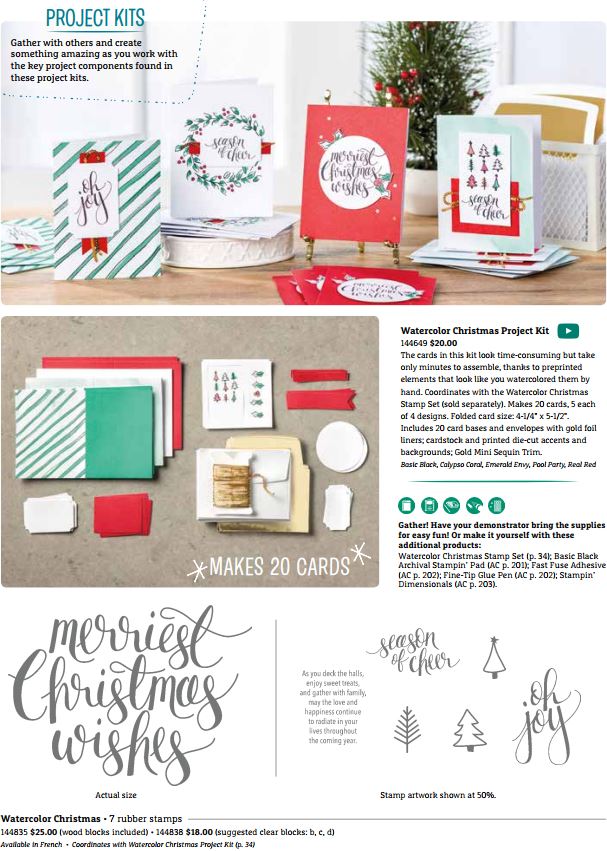 If there is just too much awesomeness in the new Holiday Catalog and want to get some of it for free, let me know.  Let's have a party!  Gather some friends and we can host it at your house or mine.  You'll be crossing stuff off your wishlist in no time.